Did you know that the average person receives 121 emails per day? That figure is expected to rise to as much as 140 emails per day by 2018!*

If you are trying to market your business, how do you expect to stand out in an inbox that is as full as that?

The answer is, you probably can't, and your business is likely suffering from trying to communicate in this way.

Compare those with the open rates of sms, which on average has an open rate of 98%!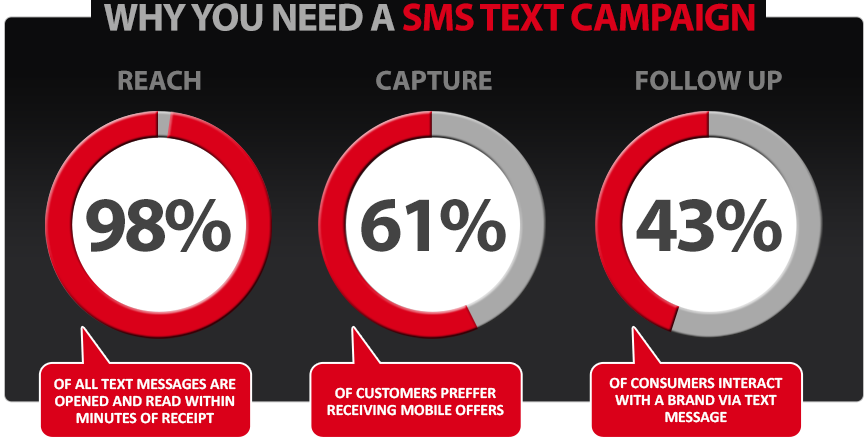 In fact, even more consumers now prefer sms over receiving emails. And the best part? The average response/open rate time for an sms is just 3 Minutes!

That means you will know almost immediately that your campaign is working!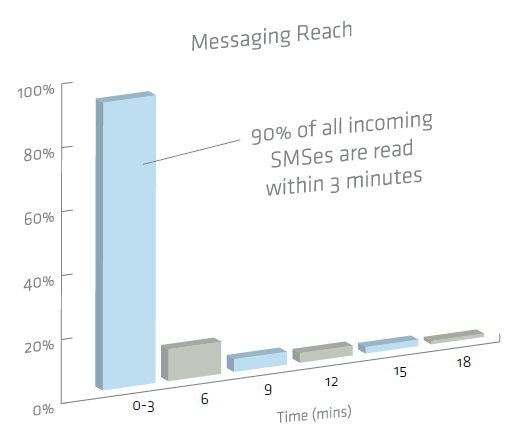 Check out the open rates of sms compared to other mediums including email, Twitter and Facebook...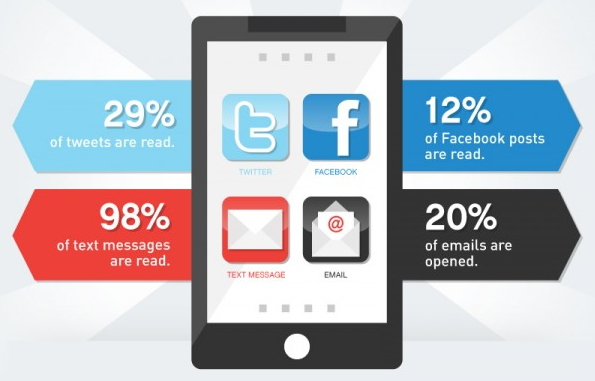 Now, to put that into perspective let's say that your email list is a nice round number. Let's say 200 loyal customers in this instance. Using these stats, that means that every time you send out an email with a special offer to wow them, only 40 people will actually read the email!
It is even more likely that only a few will click through to your offer, and finally a even less (usually around 2% will take up your offer). For all your hard work in getting together your database, making a couple of sales seems a paltry return on your time and money (Or Worse!).

There is some good news!
Being able to send bulk sms' to your database doesn't have to cost the world. In fact, you can access your own dedicated sms platform through us for less than 50 cents per day!
Invest just $0.33 per day + $0.119** per message to engage with your database, and get a better ROI from your marketing budget!

Check out our pricing below;
SMS Top-up
Price per SMS
Number of SMS
Starter
11.9c
500+
Advanced
9.9c
5,000+
Business
8.9c
50,000+
Please Note: Prices do not include GST
Here's a sneak peak at what your platform looks like;

Your platform is super easy to use, and comes with a range of handy and intuitive features including;
An activity log that you can view and download
Upload your current database in a a few seconds
Schedule your messages
Create automatic replies
Set up templates
Create a 'keyword' that people can text to take advantage of discounts, special offers or be added to your list
Send SMS' from your email inbox!
Create your own 'Virtual Number' for people to text
Here's what customers have said about using sms marketing;
"We have grown from 120 customers on our list to over 4,000 today and our increase in sales same day of the week v's the week before and after a text message is sent out is phenomenal in my opinion.
I see it as advertising my business and the sales replicate this theory. If it wasn't bombardment I'd send one every week but I like to space the texts so they're relevant and noticed.
Sales grew on all 3 text message days last December v's the week before or after on the corresponding day by 20-33%."

Last year the owner opened his second Cellarbrations store and already has 1,466 customers on his SMS database and is actively marketing to them.
"Last week I sent a message to only 172 customers. Approximately 30 came into the store, generating sales of about $3,000 in two days. As a result of this campaign my VIP database also increased by over 10% in the last few days. I have truly found this to be an easy and effective means of communication with my customers, and one that I would readily recommend to other business owners."
Tonia Tribe | Owner @ Tonia T Boutique
"Love it! Unbelievable!
We sent our first message out to 653 customers. Total revenue directly generated from that campaign was over $7,500. The cost was less than $80.
This is easily the best return on marketing investment I've ever made."
Rob Brooke | Manager @ Victoria Hotel
So, what are you waiting for? Click the button below to get started, and see how easy it is to boost your ROI with sms marketing! Signing up to our platform takes less than 2 minutes, and will help you automate your marketing efforts!

You can cancel anytime, and there's even a 30 day guarantee for the first month in the off chance you decide sms marketing is not for you. Just let us know and we'll refund you the subscription cost with no questions asked!
Click below to get started today, and send your first campaign in minutes!

*source
**billed monthly.
Here's some other tools we use in the business that you may find handy!
Neville Medhora is a bit of a gun all-round, and his blog kopywritingcourse.com has pretty much all the information you could ever want regarding copywriting, and ensuring the ads/sales pages etc you put out there are working, and more importantly, selling.
One of the resources he has provided is an income and product pricing calculator (click to go to the link). This is a great way for you to see how much you should be pricing your products at, and we still refer to it now.